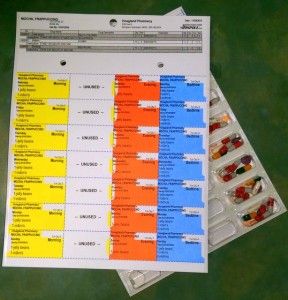 You may find that you have been prescribed a number of medications, and that you need to take them at different times of the day. It can be difficult to keep track of what medication you need to take and when.
Good news! We can offer you an easier and safer way to take your medications. You will wonder why you never tried it before.
Our Mediset Program is designed to provide a medication management system for customers who need extra help organizing their medications. Customer prescriptions are filled and kept at the pharmacy, then properly dispensed in weekly Mediset boxes.
These Mediset boxes can either be picked up at the pharamcy or delivered to individual residences. Hoagland Pharmacy will contact the appropriate prescribers regarding medication refills and confirm that all medication orders are current. This service, including delivery, is $30.00 per month and a one-time $30 setup fee. Some insurances will even cover this service. Our goal is to assist in medication compliance, reduce confusion, stress and potential misuse of medications.
Ask any of our staff today about our pill-packaging service and how you can get signed up. Call us at (360) 685-5014 or email our Mediset Department.
Download the Mediset program info form